According to CNN.com, a Tennessee man is facing charges of aggravated sexual exploitation of a minor. But it turns out that none of the photos feature more than a child's face. He took photos of girls' faces and photoshopped them onto photos of nude women. The investigators don't think that he had any contact with the girls, but they're taking the stance that since the purpose was sexual gratification, they can go after him.
A lot of different things come up for me around this. First, I'll admit to having a judgment- I get squicked by his actions and it's not easy to figure out where my squick affects what I think about it. That's one of the challenges with dealing with sexuality- we often enact laws around sexual behaviors that have more to do with our (or our lawmakers') sense of disgust than any real or potential harm that has been caused. For a really dense, but interesting read on that, check out the book Hiding from Humanity: Disgust, Shame, and the Law.
At the same time, I have to ask who he has actually harmed. I'm sure that there will be plenty of people who will argue that if this guy is using these photoshopped images for masturbation, it's a short distance to acting those fantasies out with a real child. This is the slippery slope model of sexuality and while it can sometimes be a reasonably accurate way to describe some situations, it gets applied with a broad brush. Once we accept that the slippery slope is inevitable, it's easy to conclude that we need inflexible boundaries around what we do since that's the only way to keep from sliding into the pit. But the slippery slope is often about a story that we make up in our heads about what we believe will happen, rather than an accurate reflection of the situation.
Even when the slippery slope model is an accurate description of the behavior of large groups of people, it's often not accurate when describing an individual. The fact is, we don't know what he might have done in the future. There are those who would argue that we can't take a chance on his hurting a child. Yet, that flies in the face of our legal system's presumption of innocence, as well as the fact that if we could get prosecuted for thinking of committing a crime, we'd all be in jail for something.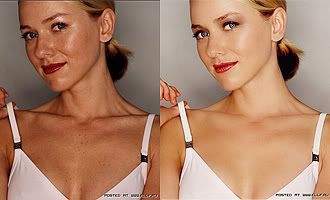 There's also a way that we use cases like these to pretend that we don't (as a culture) sexualize youth in general and girls in particular. There's a part of me that wonders what the real difference is between what he did and the way that photoshop is used in every single image that we see in advertising and other media. For example, here's a before-and-after series of celebrity photos (click on the porfolio link at the top of that page and roll the mouse over the photo to see the unaltered version) in which people are made skinnier, skin tones are lightened & evened out, hair is lightened, and eyes are made bigger, all of which are markers of youth (lighter hair as a marker of youth is specific to white people, of
course).
Most people look at sexualized images of women that have been modified to look younger or even child-like, and see them as nothing more than everyday images. But what if the man in Tennessee had had the photoshop skills to make the faces of the women in the nude photos look like girls without having to do a cut and paste from photos of actual girls? Is there a difference? At what point does that cross a line? When does making someone look young turn into child porn?
Ultimately, the ostensible reason for laws against child porn is that it harms children. But they also get used by many people to convince themselves that they're not like those evil people "over there". And when we do that, we lose sight of the fact that, on some level, we're surrounded messages that equate youth and sexiness. If we were to actually take a serious look at that, folks like this guy might not seem like they're as different from everyone else as we like to think.
Cases like this make me wonder what it would be like to live in a world where wisdom and experience were seen as sexy. I doubt that we'll ever have a world in which youth and inexperience, especially female sexual inexperience, isn't prized. But what if we also honored the gifts that come with age? But that's a topic for another day.